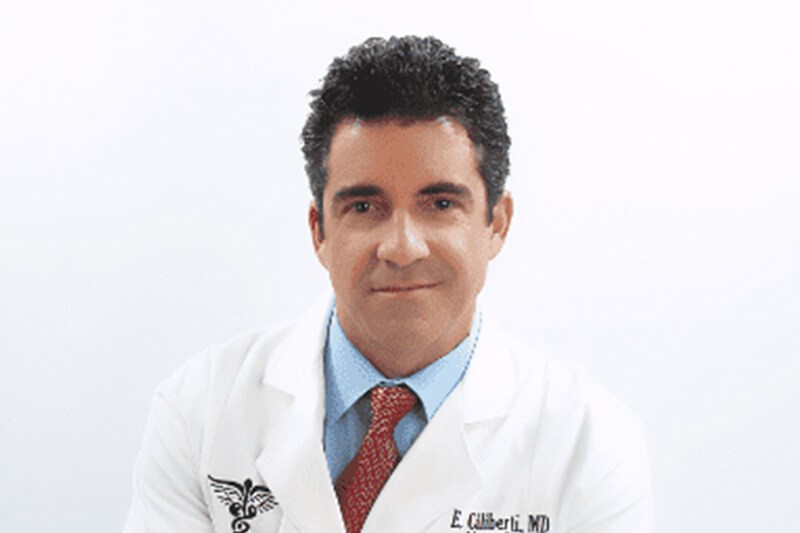 Eric F. Ciliberti, M.D. is a board-certified physician specializing in neurology and has nearly 30 years of experience in the medical field. Dr. Ciliberti received his formal education at several prominent universities, including a bachelor's degree in psychology at Emory University in Atlanta, GA, a master's degree in physiology at Georgetown University in Washington, D.C., and a doctor of medicine degree from Tulane University in New Orleans, LA. He also trained with world-renowned leaders during his neurology residency at the prestigious Cleveland Clinic. As a neuro-ophthalmologist, Dr. Ciliberti offers highly specialized vision and eye care for complex diseases that affect the eyes, brain, muscles, and nerves.
Dr. Ciliberti is one of only two neurologists completing residency training as a neuro-ophthalmologist in the South Florida area. He is also the only regional neuro-ophthalmologist with residency training in ophthalmology. Dr. Ciliberti completed subspecialty fellowship training in neuro-ophthalmology with two of Bascom Palmer Eye Institute's most prominent professors of neuro-ophthalmology. He is an active member of the American Academy of Neurology and the Association for Behavioral and Cognitive Therapies and is the founder of the American Behavioral Research Institute.
Dr. Ciliberti proudly served our country in the United States Air Force Reserve. He has received numerous awards throughout his education and career, including the Bausch and Lomb Honorary Science Award, the Outstanding Young Men of America Award, and the James H. Allen Award for student leadership.
Reviews
"Outstanding - From Paul G. This is by far one of the most positive visits I have had for an exam. I arrived for my appointment and was greeted cheerfully and respectfully by the young ladies in the front office. On time to the minute, another young lady called me back and accompanied me through a battery of tests. I was never left alone to wait. She advised Dr. Ciliberti that she completed her tests and he immediately came into my room to examine me and review all data. His demeanor and bedside maner were top notch. He spent 30 + minutes with me and continued testing until I was satisfied with the results. So many drs. in South Fl run medicare mills where each patient is a $ and receives service as fast as the dr can run to the next patient. Not so with Doc C and his terrific staff. Top notch patient care and medicine here"
Anonymous
Vitals
"Dr. Rothschild Eye Instute In 2013 put in Crystal Lens in both of my eyes, which finally gave me the best eye sight I ever had in my life. I previously had LASIK Surgery which after years no longer worked. Dr. Rothchild gave me my sight back and it was painless, took about 25 minutes . He is the best Optomologist I ever had. His staff is the best and make you feel that you are part of the Rothschild Family. I drive every year from Georgia to have my yearly exam with him. I am a retired Federal Agent and I recommend him highly to everyone, because he is the best ! Thank you Eric! For my better than perfect eyesight!😎🍷👍 Pierre Charette Retired DEA ACTING SPECIAL AGENT IN CHARGE MIAMI FIELD DIVISION"
P.C.
Google
"Additional - Star Rating system for office was down. This is an attempt to evaluate."
Anonymous
Vitals
"Dr Ciliberti is an excellent doctor who quickly diagnosed my condition, prescribed the remedy, and changed my life. With prisms in my glasses I can now drive again. I really thank him and his wonderful staff for their professional attention. "
B.V.
Healthgrades
"Rothchild Eye Institute/Eric J. Rothchild, MD - Dr. was recommended by friends. Had Cataract surgery with Crystalens. Very happy with care, surgery staff, doctor. Staff and doctor went over realistic expectations. We recommend Dr. Eric Rothchild and Rothchild Eye Institute"
Anonymous
Vitals